Do you love dressing up your nails with stunning DIY nail art? If so, you are not alone! With a few simple tools and supplies – including our favorite craft item ever – beads, you can give your nails an amazing look that will turn heads. Whether it is special occasions such as weddings, elegant office events, or just adding fun flair to everyday life, these easy techniques for creating beautiful beaded nails will take your mani game to the next level. Read on to find out how to make dazzling bead-based designs, from classic French tips to bright abstracts. So get ready to add some extra sparkle and shine with DIY nail art beads!
Tips for achieving the perfect nail art beads
Start with a clean canvas: Before your beadwork, ensure your nails are free of any residue or dirt. A good soak in acetone and cuticle oil will help to ensure that the surface is prepped for perfect nail art beads.
Choose the right tools: Invest in some quality tweezers, glue, and beading mat for intricate designs and easier application of beads.
Pick out your beads wisely: When selecting beads for your design, look for color and size variations to create dimension and texture on the nails. Also, decide if you want to use plain or mixed shapes like stars or circles as this will determine how much time it takes to complete the look.
Practice: Take the time to practice your technique on a few nails or a piece of paper before you begin the real deal. This will ensure that you don't make any mistakes and can confidently complete the design.
Start small and work your way up: Start with simple designs like linear designs or one color per nail. Once you are confident with these techniques, move onto more complex patterns such as chevrons, swirls, and plaids!
Protect your artwork: To protect your beading from chipping or fading away too quickly, apply either some top coat over it or layer it with a clear base coat. This will help keep the beads intact and give your nails a polished look.
Clean up: When you are finished, use an angled brush and nail polish remover to clean up any excess glue or stray beads that may have been left behind. This will help you achieve the perfect manicure every time!
Show off your work: Most importantly, show off your masterpieces with pride! With practice and patience, there's no limit to the creative designs you can achieve with nail art beads. Let your creativity soar and enjoy wearing beautiful beading on your nails!
Get the perfect nail art look with these beading techniques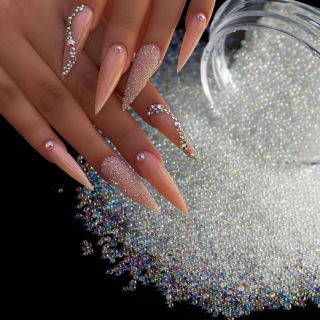 Be sure to use quality beading supplies for best results. Start by prepping your nails with a base coat of nail polish, this will help keep the beads in place and create an even surface to work on. Next you will need to decide which type of beads you would like to use. Various types of beading are available such as seed, crystal, glass, and more! Once you have chosen the type of bead, select the size and color that fits your desired look. Now it's time to start beading! Begin by selecting one bead at a time and placing it onto your nail using tweezers or a beading tool. Each bead must sit securely within its designated spot, so take your time and be sure to use a steady hand. Once all the beads are in place, finish by applying a top coat of nail polish or gel to seal your design and protect it from chipping. With these tips and tricks, you can easily create beautiful beading designs!
And there you have it! Now that you know how to get the perfect nail art look with beading techniques get creative and start experimenting with different colors and shapes. Have fun!