For any fashion-savvy woman looking to stay up-to-date with the latest and greatest trends in hair design, finding the perfect haircut can be a chore. Whether you're rocking long locks or trying out something new, choosing a sleek style that flatters your face shape and complements your existing aesthetic is essential. To help you narrow your search and learn about some of today's hottest trends, this article will explore some of the trendiest haircuts for women on the scene. So get ready to discover fun colors, modern cuts, and creative styling ideas that work no matter what look you're going for!
The hottest haircut designs for women to try this year
When it comes to women's haircuts, there are many stylish options. The possibilities are endless, from long and layered bobs to pixie cuts, bangs or even short undercuts. Whatever your style is—edgy, classic or something in between—you can find a trendy haircut design that suits your look. Here are some of the most popular haircuts for women:
Bob: The bob cut is timeless and classy. Its length varies from chin-length to shoulder-length and looks great on oval, heart, and square shaped faces. You can choose between wavy, straight or layered styles with this cut.
Pixie: The pixie is a super short hairstyle that shows off the ears, neck, and cheekbones. It's one of the most popular hairstyles for women because it's so easy to style and maintain.
Bangs: If you want a change from your regular cut, adding bangs is a great way to switch things up. Bangs can be paired with any length haircut and are especially flattering on rounder face shapes.
Undercut: An undercut is a modern hairstyle that has grown in popularity over the years. It involves shaving or cutting the sides of your hair short while keeping the top longer. This look is only for some but can be very edgy and stylish when done right.
Shag: The shag haircut is another classic style. It's longer than the bob and has a layered look that creates texture and volume. This cut is great for those who have thick hair and can be tailored to suit any face shape.
No matter your style, there are plenty of trendy haircut designs for women. So whether you opt for a long bob or an edgy undercut, make sure you find a cut that flatters your features and suits your lifestyle. With the right hairstyle, you'll look and feel fabulous!
Fade haircuts for women who want an edgy style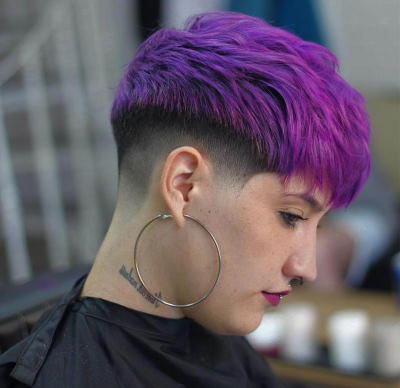 These haircuts are popular among celebrities and everyday women alike, as they can be styled in various ways to create different looks. From high fades that start at the temples and gradually become shorter towards the nape of the neck to low-key faded sides that don't go all the way down, there are many fade hairstyles for women to choose from. With this type of haircut, you'll have plenty of options for styling your hair. Whether you want something sleek and sophisticated or wild and creative, you can find a style that suits your taste. To get started with a fade haircut for women, talk to your stylist about what kind of look you want and what kind of length you want the sides to be. From there, your stylist can create a look that's all your own. With creative coloring, textured cuts, and unique styling techniques, the possibilities for creating a beautiful fade haircut for women are endless.