Have you been dying to try something new and daring with your hair color? Why not try jumping on the latest trend of peacock-inspired colors? These stunning, multi-hued hues are the perfect way to add a little flair and make a statement without looking too out of the ordinary. From bright blue, purple, and green pops to more subtle splashes of teal, there's sure to be an option that will suit your look. Keep reading for ideas that can easily transform any style from boring to fabulous at your next salon appointment!
Peacock hair: the bold new trend you need to try
Are you looking for a bold new look sure to turn heads? Then peacock hair might be the perfect style for you! Peacock hair is a vibrant and exotic trend that features an array of colors, from deep blues and purples to bright greens and yellows. It's the perfect way to express your personality with a unique and colorful hairstyle.
Peacock hair is created by using multiple colors in one hairstyle, often blending different shades of the same color family. You can take this trend as far as you want – mix and match colors until you achieve your desired effect or keep it simple with just two or three colors. A great thing about this trend is that it works well on all hair types and lengths, from short crops to long tresses.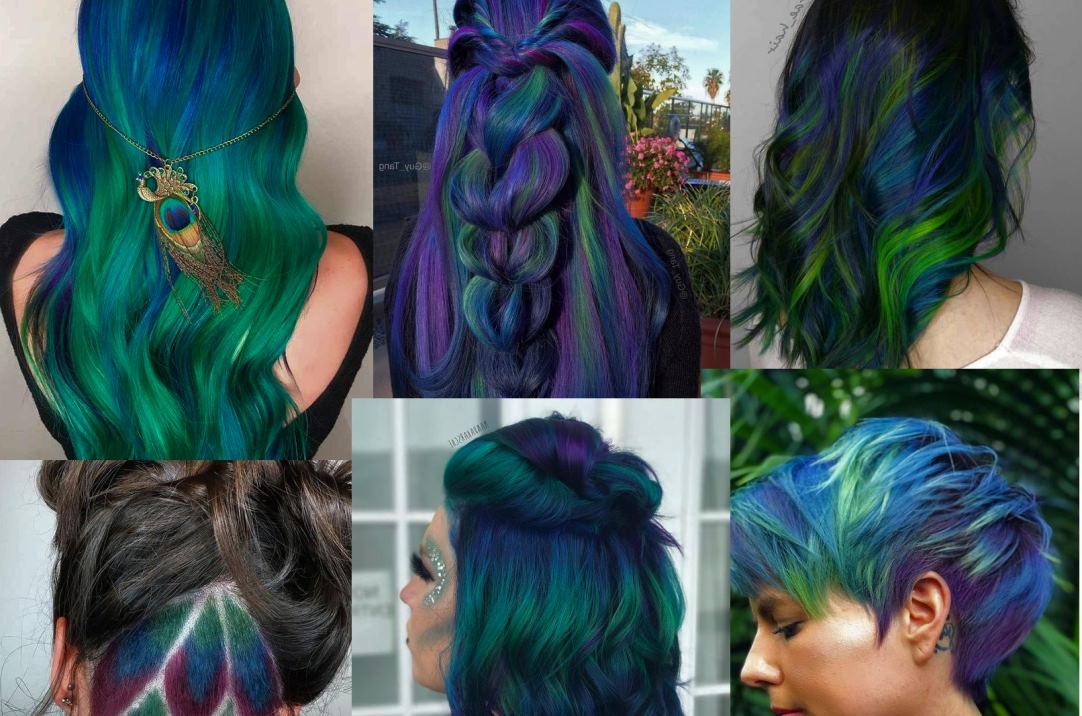 To get the perfect peacock hair look, make sure you use high-quality dyes so that your colors stay vibrant for longer. Choose colors that complement each other and start with lighter shades first to build up the desired effect. Once the dye is applied, carefully separate sections of your hair with clips or pins and go over it with a flat iron to give it an even finish.
If you've been wanting a bold new hairstyle that will make you stand out from the crowd, then peacock hair might be just what you need! With its unique blend of colors, this trend is sure to make any outfit pop – so give it a try today!
Ways to wear peacock hair color
Ombre Peacock Hair Color: Start with a darker base color and use bold streaks of blue and green to create an ombre look that fades from dark to light.
Highlighted Peacock Hair Color: Go for a natural-looking take on the trend by only applying hints of peacock-colored highlights throughout your hair.
All Over Peacock Hair Color: If you're feeling daring, why not go all in? Dye your entire head with peacock colors for a vibrant, eye-catching hue.
Dip-Dyed Peacock Hair Color: Add depth and dimension to your hairstyle with dip-dyed tips. Use a deep, dark color at the roots and blend it into a bold peacock color.
Balayage Peacock Hair Color: Let your personality shine with a creative balayage look that incorporates blue, green, and purple tones in one hairstyle.
Contrasting Peacock Hair Color: Pair vivid peacock colors with contrasting hues like bright pink or yellow for an edgy look that will make heads turn.
Glittery Peacock Hair Color: Give your hair some extra sparkle by applying glittery highlights throughout for an ultra-glamorous style.
Two-Tone Peacock Hair Color: Try out a two-tone hairstyle with a combination of deep, dark colors and vivid peacock hues. This look can be as subtle or bold as you want.
Peacock Hair Color Streaks: Take inspiration from the punk rock era and add some blue and green streaks to your hair for an edgy take on the trend.
Pastel Peacock Hair Color: Try out softer shades of blue, green, and purple for a more muted look that still shows off your creative side.
The possibilities are endless for incorporating peacock hair color into your look! Whether you go all-out or apply hints here and there, you're sure to have a unique and eye-catching hairstyle.